Tianxi Kitchen Appliance Provincial Postdoctoral Research Station was formally established, and a cooperation agreement was signed with Zhejiang Gongshang University
  On the morning of September 2, 2021, the signing ceremony of Zhejiang Gongshang University-Zhejiang Tianxi Kitchen Appliance Project and the launching ceremony of the post-doctoral scientific research workstation was successfully held in the high-rise conference room on the 9th floor of the office building of the company's area A. The meeting was hosted by the manager of Human Resources Department Ye Jianbo, Professor Xie Hujun, Associate Professor Ren Gerui, Dr. Lin Quanquan and Dr. Huang Min of Zhejiang Gongshang University, Director Zhang Jiansheng, Deputy Director Fan Qiaolan, Zhejiang Tianxi Kitchen Appliance Co., Ltd. Co., Ltd. Chairman Lu Ting, Dean Chen Xiyan of Smart Kitchen Appliance Research Institute, and Vice Dean Liang Yuqing attended the meeting.
  At the meeting, Dean Chen Xiyan first explained the company's original intention to establish a post-doctoral scientific research station and the cooperation project. He said that the company has always regarded technological innovation as the core competitiveness of the enterprise, attaches importance to scientific research work, and attaches importance to the cultivation of scientific research team talents. The establishment of a post-doctoral workstation is the beginning of the company's new journey. The company's R&D team will actively cooperate with the progress of scientific research to create smart kitchen appliances and give back to the society.

Chen Xiyan, Dean of Smart Kitchen Appliance Research Institute, delivered a speech
Professor Hujun Xie and Dr. Quanquan Lin of Zhejiang Gongshang University respectively stated that they will use this cooperation as a starting point, relying on the discipline advantages of Zhejiang Gongshang University in food and bioengineering, and rich experience in the field of traditional food flavors, hoping to help the company solve innovation Difficulties, and successfully completed the cooperation project.
Professor Xie Hujun of Zhejiang Gongshang University and Dean Chen Xiyan of the Smart Kitchen Appliance Research Institute signed a project cooperation agreement
Dr. Lin Quanquan of Zhejiang Gongshang University and the chairman of Tianxi Kitchen Electric Lu Ting signed a doctoral entry agreement
  县人力社保局章建升局长对此次合作顺利启动表示祝贺并为谢湖均教授颁发了引才顾问聘书。他表示非常开心又做了一次"红娘",希望浙江工商大学和浙江天喜厨电双方能在接下来的2年"蜜月期"里携手并进,帮助企业解决技术难题,攻克技术难关,实现产品的迭代升级,也希望企业利用此次契机逐步实现高层次人才引进常态化,打造综合素质强,专业能力强的人才团队,带出一批技术、技能型人才,实现"双赢"的局面,助推企业成功上市;同时也表示,人社局将做好服务和指导工作,及时兑现相关政策。
县人力社保局章建升局长为谢湖均教授颁发
引才顾问聘书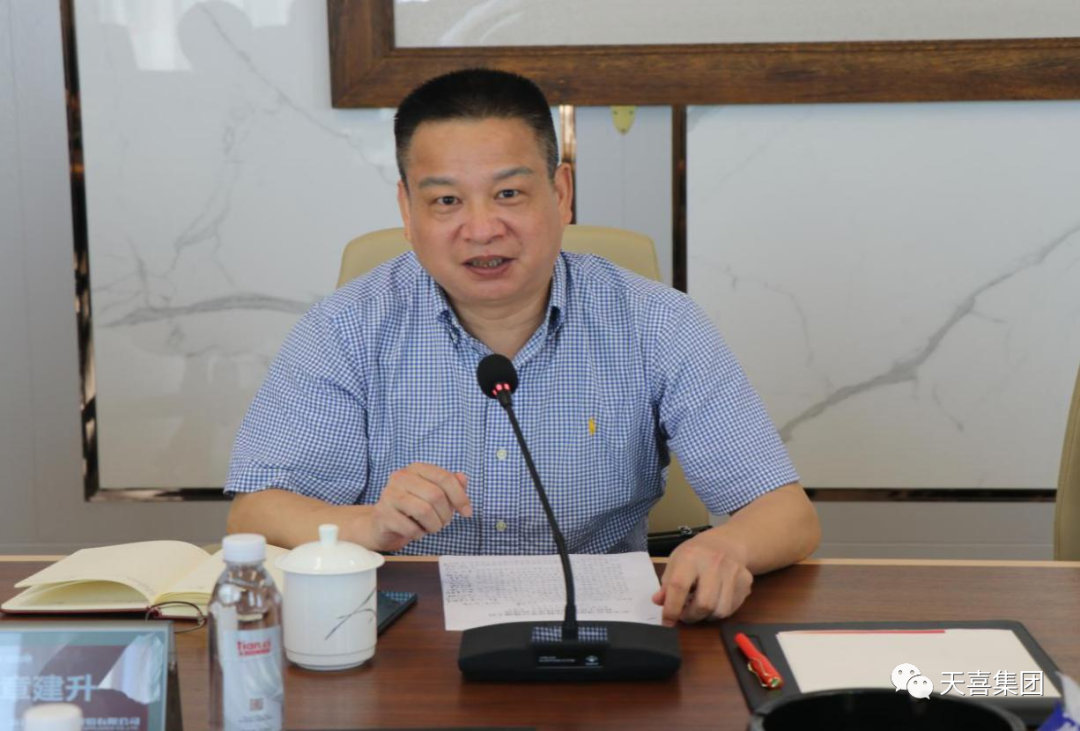 县人力社保局章建升局长发表讲话
  浙江天喜厨电股份有限公司吕挺董事长做最后发言,他表示将不遗余力为博士后科研工作站提供仪器、设备、平台等支持,发挥家电核心技术,为后续开展的科研项目带来市场价值,实现企业重大技术创新课题的再突破;同时,自立目标,为建立国家级博士后科研工作站做准备。
浙江天喜厨电股份有限公司吕挺董事长发表讲话
合影